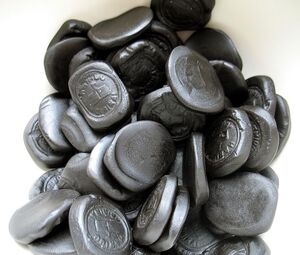 Pontefract cakes (also known as Pomfret cakes and Pomfrey cakes) are a type of small, roughly circular black sweets measuring approximately 2 cm in diameter and 4 mm thick, made ofliquorice, originally manufactured in the Yorkshire town of Pontefract, England.
The original name for these small tablets of liquorice is a "Pomfret" cake, after the old Norman name for Pontefract. However, that name has fallen into disuse and they are now almost invariably labelled "Pontefract cakes".
Originally, the sweets were embossed by hand with a stamp, to form their traditional look (the workers who did this were known as 'cakers' and were able to produce upwards of 30,000+ per day), but now they are usually machinery formed.